Anchor point
Linchupi Kapok Road in Baihe District
Google Rating:

4.2

Score
Travel tips
Biking to Kapok Road also makes a great outing.
Although the trees along Kapok Road are not in bloom during summer, the area is still very beautiful.
The district office holds a Kapok Flower Festival every year.
Introduction
The most beautiful covenant with spring-- one of the most beautiful streets of flowers in the world.
Kapok Road mainly extends along Country Road 90 South to nearby sections of roads. Drive along Country Road 90 South, and turn into the farm roads to see the most flaming red road of spring flowers. In 2015, it was voted by the Spanish leisure and travel website Boredpanda as one of the world's most beautiful streets of flowers.

Linchupi Kapok Road in Baihe District stretches for several meters. The gorgeous vista of blooming kapok flowers makes it a popular IG check-in spot for Internet celebrities. The reddish orange Kapok Road with vast rice fields and lotus fields on both sides, and the backdrop of blue skies and white clouds is just like a picturesque rural painting. Each year, it attracts photographers during sunrise or sunset to capture the most beautiful moment in Kapok Road.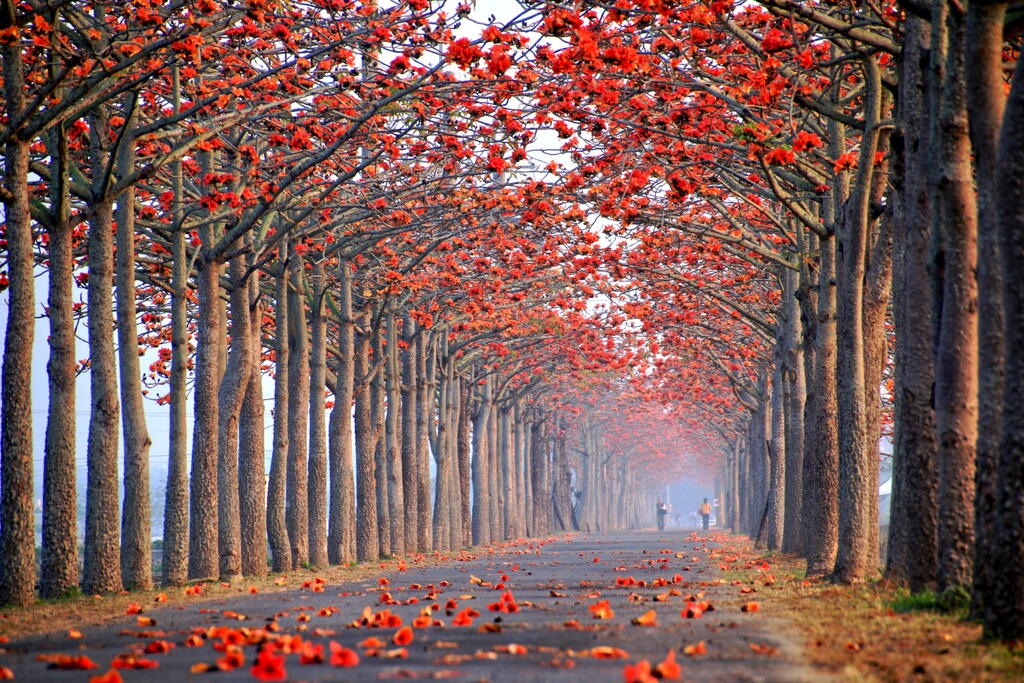 The best way to travel around Linchupi is by bike. You can enjoy the exquisite scenery of Kapok Road and feel the freedom and relaxation of the countryside. Continuing on to the nearby Xiaonanhai Scenic Area, there is a 5-km scenic trail around the lake, where you can go for a leisurely stroll or bike ride. With the Xiaonanhai Suspension Bridge as the starting point, the trail leads to Putuo Temple by the lake and the ecological park on the opposite bank, where flocks of egrets can often be seen and the environment is very tranquil and comfortable.

Information
Opening Hours:
Sunday:open 24 hours
Monday:open 24 hours
Tuesday:open 24 hours
Wednesday:open 24 hours
Thursday:open 24 hours
Friday:open 24 hours
Saturday:open 24 hours
Admission charge:
No ticket.
Recommended length of visit For 1-2 hours.
Reminders
※The season of kapok is on every March to Mid-April, the period is about 2 weeks (depend on the climate)
Parking
Visitors can park your car along the road 【Nan 90】.