Anchor point
Traffic control information facilitates your spring outing!
Lunar new year holidays are the best timing for family outing. Nevertheless, all tourist spots are crowded with people and cars during the lunar new year, making it difficult to move around. To facilitate visitors' spring outing and make their trips clean and pleasant, Siraya National Scenic Area Administration, Tourism Bureau, M.O.T.C. (hereinafter referred to as the Administration); Tainan City Government; the Fifth Maintenance Office Directorate General of Highways, MOTC; Tainan City Police Department and its precincts; local district offices; and civil groups have cooperated to implement a number of traffic control measures between January 22 and 29 (between the first to the eightieth day of the lunar new year) to optimize citizens and visitors' convenience. The measures include:
1.Establishing Siraya traffic control team:
Continue to dispatch personnel to conduct patrols and inspections around on a daily basis and report the traffic status of congestion-prone road sections to the Police Canton Radio Station or CMS, helping visitors to avoid traffic jams; and investigate the use rate of parking areas. Guantian Visitor Center, Zhongpu Visitor Center, Nanhua Visitor Center, Meilin Information Center, Lingding Information Center and Dapu Visitor Information Center will be open between the first to the eightieth day of the lunar new year; and will provide citizens with tourist/counseling services, report major accidents; clean, maintain and maintain the environment, and assist to report traffic jams and so on.
2.Maintaining the cleanliness and tidiness of the environment:
All important sightseeing spots have environment cleaners who are responsible to clean and maintain these sightseeing spots and report the facilitate status to the competent authority.

3.Traffic control at intersections:
During the lunar new year period, the Traffic Division and precincts of Tainan City Police Department will conduct irregular traffic patrols to direct the traffic and clear the traffic at congestion-prone intersections, control the duration of red and green lights to better maintain the traffic flow and orders.
4.Plan temporary relief roads:
(1)Plan to set temporary traffic signs, which indicates Sough Highway 96-1 as the alternative road and South Highway 96-2 located in Guanziling Water and Fire Cave as the alternative road for big passenger cars, at Taiwan county Highway 172B in Guanziling area.
(2)It is planned to adopt counterclockwise single-direction and traffic evacuation measures for Ercengping Circular Line in Meiling area; and to set temporary parking and lane following direction signs in Meiling Scenic Area.
5.

LBS (Location Based Service) instant messages in Guanziling and Meiling:
To ease traffic congestion during peak hours, the Administration cooperates with Chunghwa Telecom to, during the lunar new year period, remind visitors to pay attention to driving safety, follow police's traffic control measures and
use public transportation
to travel around tourist spots via SMS broadcasting.
6.Planning temporary parking areas:
To solve the problem of having insufficient parking space during the lunar new year, the Administration has coordinated with Baihe Daxian Temple to set up the vacant space before the Temple as a temporary parking space.

7.Installing car traffic image identification systems:
The Administration uses intelligent information technology and monitoring system to timely calculate the car traffic on site and to enter the data into the system's data system. Via the new technological tools, the Administration can precisely control car traffic in real-time and this system has now been adopted in Guanziling and Meiling Scenic Areas.
8.Displaying vacant parking lots in real time:
Guantian Visitor Center has set a real-time parking space signs, enabling visitors to clearly and quickly control the parking lot status instead of turning around to find a parking lot.
9.A section has been set at the Administration's official website to provide traffic control information and for visitors to check related information (
http://www.siraya-nsa.gov.tw
).
Lunar new year related activities held at Siraya National Scenic Area
【2023 Tsou Mai Lai Farm Spring Festival】
Tsou Mai Lai Farm will hold various activities, including the Huanhuan Market, street performance, Apple Theater, bubble show, magic show, Starry Sky, special delicacies, DIY activities and so on, to enrich visitors' lunar new year holidays.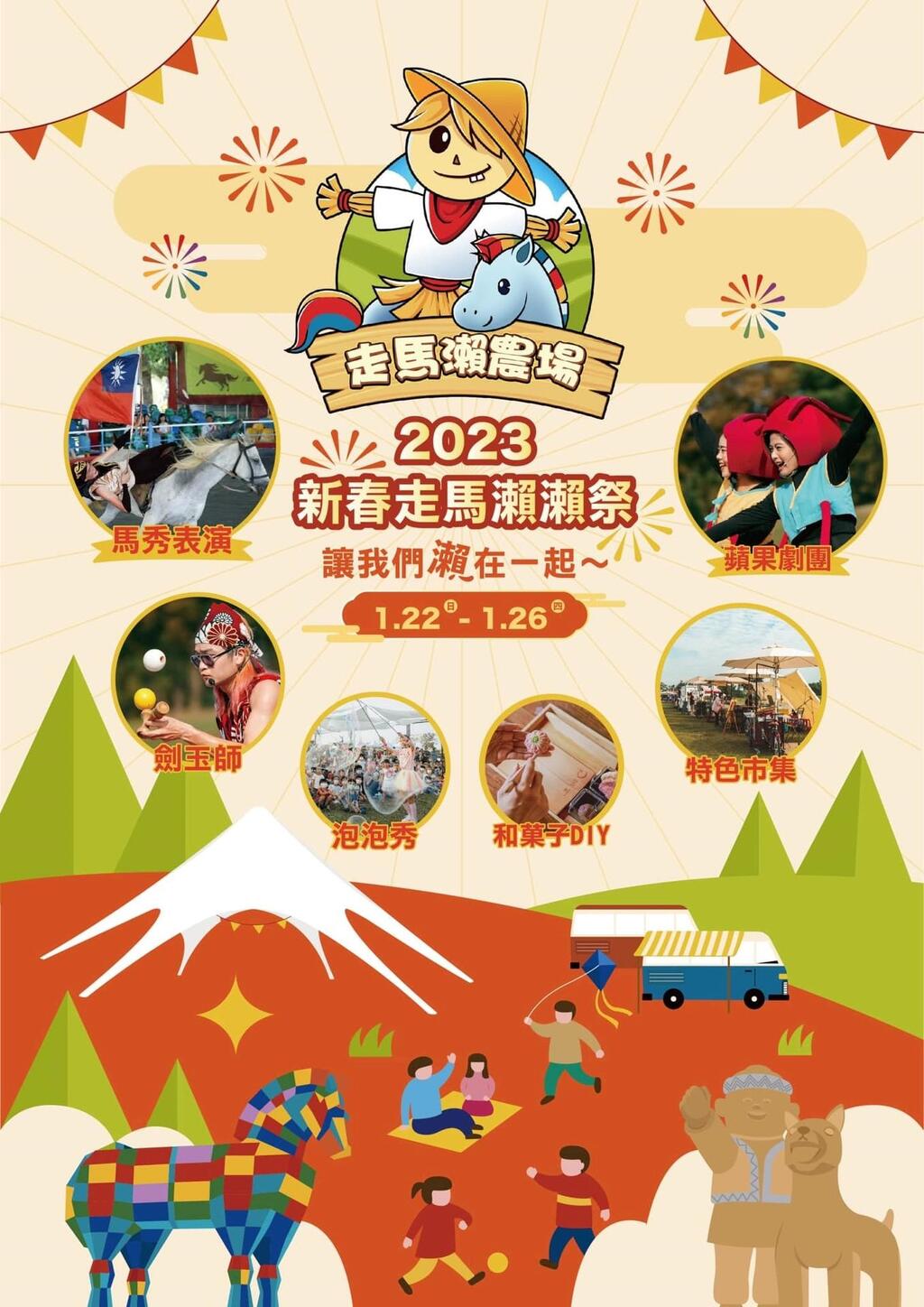 Liuying Jianshanpi Resort【Jade Rabbit Welcomes the Spring-The Amusement Park of Air Cushions and Bubbles】
A 500-cm-tall giant God of Wealth will welcome visitors to Tsou Mai Lai Farm during the lunar new year period. Tsou Mai Lai Farm will also hold various activities, include the Insect and Forest Air Cushion Park, Happy Bubble Show, family bubble experience and so on. All families are welcome to visit and have great fun at Tsou Mai Lai Farm.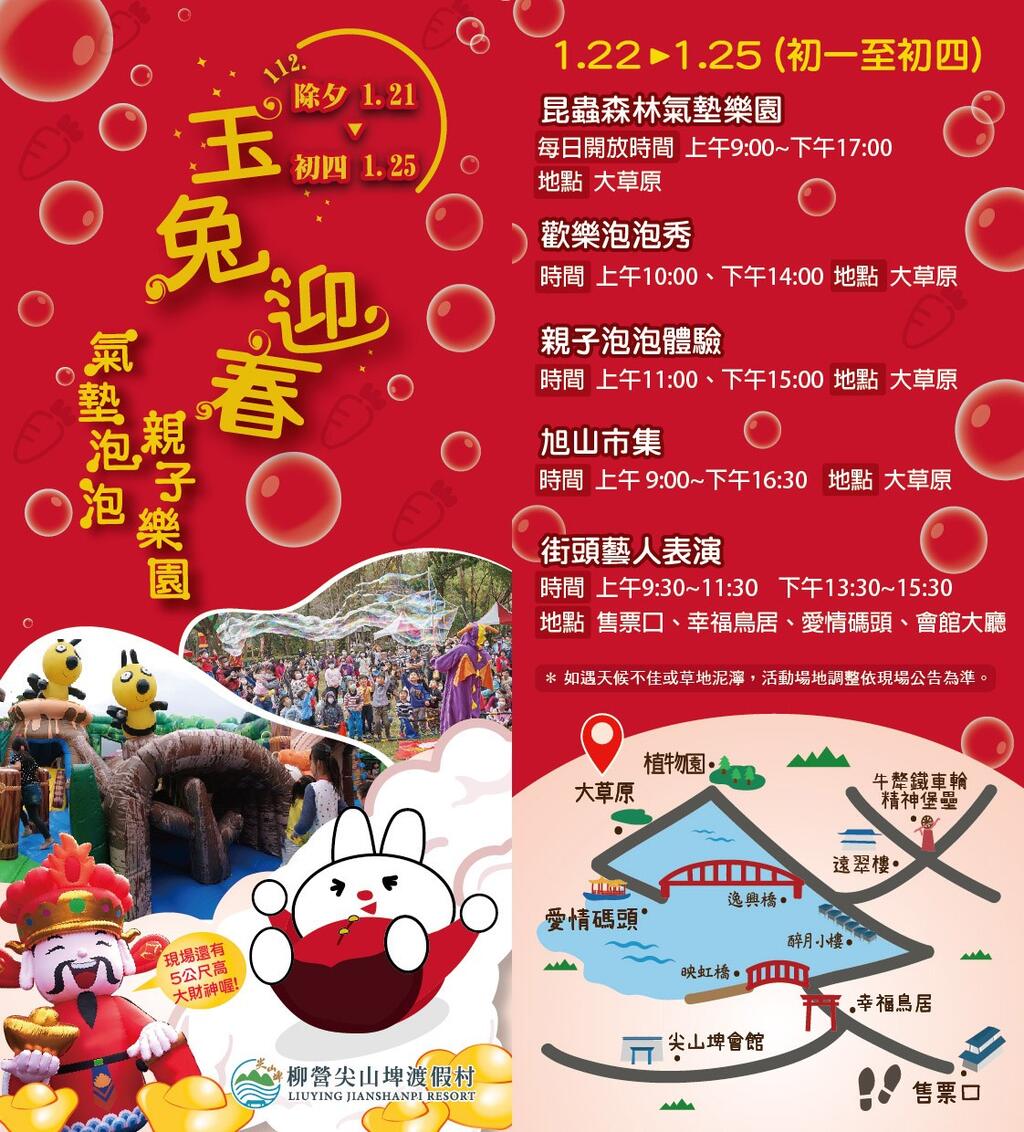 【Longtian Culture Heritage Area (Longtian Cha Cha) – The Classic Adventure Journey of Peter Rabbit's 120th Anniversary "Let's go to Tainan Longtian Cha Cha together"】
The first Peter Rabbit exhibition in Taiwan. Let's spend your lunar new year holidays together with Peter Rabbit. The outdoor garden, social media check-in wall, and picture-book wall will make it hard for you to stop taking photos. Please prepare portable charger to ensure that your mobile phone is fully charged.
【Deyuanpi Holland Village and Hulupi Natural Park】
Welcome to the world of rabbits. Let's come to Shuangpi from the first to the fifth day of the lunar new year and enjoy the great fun of finding rabbits